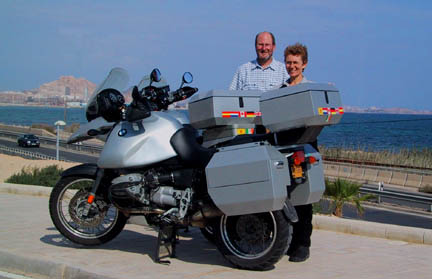 Our adventure motorcycle travels have taken us to many places on our BMW motorcycles and we have used this section to record our travels daily while we are on the road.
Most of the people that we know who travel by motorcycle can only do so for limited periods of time, such as when they take their annual vacation or for a weekend away once a month. When they do get the rare chance to travel for longer periods of time they are inclined to document their travels based on the daily events during the period of their travels. For most this might be a six week trip to Mexico or India or three months to Central America or Africa and reporting in the form of a daily diary, or travelogue, works very well.
We agree that the travelogue works well to record what we have experienced. So, we have created this section with that specifically in mind. While you might find some detail in these reports please keep in mind that these are places that we have been for very brief periods of time and what we experienced may or may not be what always occurs. In addition to these travelogues we record the details of our adventures in the section titled Our Travels.
The links under the Travelogues button in the menu bar at left have been created in chronological order, as the events occurred and have been grouped by the year in which they occurred. This is not to say that they were all written in that order. We've been known to be a bit late in getting some things posted. However, when they are posted they are put in the proper place as befits the time of the event.
The initial thought for our adventure came to us after a month of traveling through central Europe in June of 1997 by car with Verna's parents. We thought it would be cool to work in Europe, although we had absolutely no idea how to make it happen. What's that old saying about being careful what you wish for, you just might get it?
In February of 1998 Jim received a phone call from a previous work colleague of Verna's. He didn't have her telephone number but somehow managed to get Jim's. Seems he was working on a contract for a telecom in Dublin, Ireland and wanted to know if Verna might be interested in working in Ireland! In a word, Verna said, "Yes".
We negotiated salaries, responsibilities, etc. for the months of February and March, 1998. This provided definition to the request and also found a spot for Jim. Now it was a question of approvals and funding for the projects they wanted us to work on. We didn't hear anything for a while and more or less forgot about the whole thing – until the 3rd of June. That's when the phone call came saying that everything was approved and they wanted Verna there yesterday. We tried stalling for more time but it didn't work. Like everyone else living in an industrialized society we had a home, cars, pets (two cats) furniture, motorcycles and stuff. Lots and lots of STUFF.
We also had to give notice to our current employers that we were taking new assignments in Ireland. Giving notice proved to be the easiest thing we had on our list of things to do.
So, we sorted, gave away, threw out, and packed. During the day we worked. In the evenings and weekends we sorted and packed until midnight. For two solid weeks we spent every free moment organizing, packing, hauling stuff to the dump, and arranging for charities to pick stuff up. We gave all our furniture to family members and packed what remaining valuables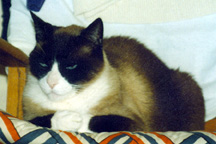 we wanted to keep.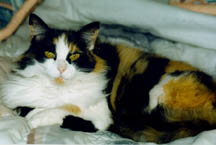 We sold our cars, at bargain prices because we didn't have time to negotiate.
Oh yes, let's not forget the cats. We were fortunate that a very good friend of Jim's was able to move into our house. With the house came our two cats. As we discovered when we came back to the U.S. 22 months later, selling the house was the easy part. Finding a new home for Thalia (the remaining cat; Dobie had died while we were in Ireland) was to prove the most difficult part of our preparations for full time travel. She now resides at The Cat House on the Kings, near Fresno, California.
Two weeks after the phone call Verna was on a plane bound for Dublin, Ireland. Jim's work commitment had completed and for the next two weeks he finished packing, hauling, and storing our goods.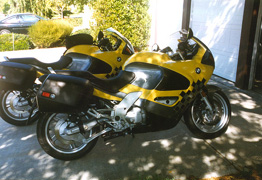 And then there are the bikes. In October of 1997 we had purchased new BMW K1200RS's – his and hers. Nirvana! We refused to sell brand new bikes at what amounted to a huge loss. We'd already done that with the cars. What to do? Why take them with us, that's what!
One week in June was spent in Salt Lake City. We had Reynolds's make a trailer hitch for Jim's K12 and they needed the bike to do so because Salt Lake BMW would not loan them a bike in order to make a hitch. Grrrr!
We had a Bushtec trailer we had towed behind Jim's previous bike, a 1977 BMW R100/7, when we wanted to take more things than we could ever use on our vacations. We knew we would have to have some way to carry more things than saddle bags would allow because we would not have a car in Ireland.
At the end of June everything we had in the house was sold, given away or in storage. Our house-sitter Jim Mohr also provided ferry service to and from the airport as Jim rode each bike over to San Francisco International Airport from our home in San Ramon, California. Shipping the bikes proved to be the easiest part of the process.
Jim had searched the most recent BMWMOA Owners News for shipping agents. He contacted Mike Mandel's office (now Motorcycle Express and they made the whole process very simple. Gail Goodman in Mandel's office arranged all the reservations and paperwork for the bikes and trailer. They had an agreement with a company in London and the London company would process the bikes through customs on that end so all we would need to do was get them to the airport and pick them up at the other end. Oh yes, the London agent met us at the airport (Heathrow) and took us to the bikes in his car. This all worked extremely well.
What didn't work well was shipping the bikes from the U.S. The U.S. Customs Service needs to be completely overhauled in our opinion. They will not allow vehicles to be shipped with anything in them. Well, our bags could be attached to the bikes but they had to be empty! They also demanded that the bikes be left at the airport for at least three days prior to their scheduled departure. And, be sure you have three notarized copies of the titles (proof of ownership) attached to each bike. Geesh! All three were in with Jim's bike and two were with Verna's when we picked them up in London. Do these people know that it costs money for this stuff?
As a result, we were forced to pay excess luggage fees because the volume (and weight) of stuff that Jim had to take with him on his flight was more than was allowed. Try packing helmets, riding apparel, and all of your personal items for travel when you are going to carry them on a motorbike in a fashion that meets airline requirements. Ridiculous.
July 3rd, exactly one month after the confirming call, found Jim arriving at Heathrow International in London and Verna flying in from Dublin to meet him. Inside of two hours after Jim's arrival we had the K12's in hand, loaded and were on the motorway headed northwest for Holyhead, Wales and a date with a ferry to Dublin, Ireland.
When we first started this adventure, we discussed the idea of exiting the work force at the conclusion of our adventure in Ireland. The one year we were supposed to work in Ireland turned into almost two years — 21 months. We were lucky enough to exit the work force at the end of March, 2000. At this point we had given lots of thought to traveling around the world by motorcycle and had decided that we wanted to do it. See our Ireland section in the Our Travels, Europe menu for information about our adventures in Ireland.
Now that we had made up our minds about what we wanted to do we decided that we needed to find out if we could do it. What this really meant to us was that we needed to find out if we could live with each other 24 hours a day, 7 days a week, 365 days a year. Think about it. You may spend a fair amount of time with your spouse/significant other but the reality of what we wanted to do hit us when it dawned on us that we really did not spend that much time together.
We each worked for the 18 years that we had been married and we each had independent interests and activities that allowed us some time away from each other. If we were going to go traveling full time we knew that that would change significantly.
What to do? Why do a trial run of course. We had packed and shipped everything we could not carry on the bikes back to the states and were on the road on the 6th of April 2000 to begin our trial run.
Two ferry rides and a ride across the UK put us in the Netherlands. We stumbled upon the premier flower show of the year at the Keukenhof. The Keukenhof is billed as the world's largest garden, which attracts more than three quarters of a million people during its annual eight-week show each spring. Millions of tulips, daffodils and hyacinths bulbs bloom every year. It is open from late March to late May every year but the dates vary depending on the weather so check first if you are planning on going. See the Netherlands section in the Our Travels, Europe menu for more information about the Keukenhof.
We then moved south and east into Germany and visited an area we had wanted to see in 1997 when on the trip with Verna's parents but could not do so in the limited time we had – The Romantic Road.
Living in Ireland and being able to travel throughout the country as well as many other European countries convinced us that we needed something that could handle difficult road conditions much better than sport-touring machines. We both loved our K12's and really enjoyed the Besser Fahren Mit BMW driving course we took with them at the Nurburgring, Germany in June of 1999.
So, in January 2000, after we had made our decision that we would be able to stop working and go traveling full time we started looking for new bikes. While in Ireland we took an R1150GS out for a test ride but decided that it was just to big. When BMW announced the new F650GS it looked like the bike for us. We ordered two sight unseen and then scheduled a three-day training session offered by BMW at their Enduro course in Hechligen, Germany for the end of April 2000 on the new F650GS's!
Came the end of the April and we found ourselves at the Enduro course in Hechligen. We were the only ones there who did not speak German! Not to worry. Most of the students did speak English at some level and they took pity on us and translated. Everyone was really quite nice.
The instructors were quite good. We were in Heidi's group. Heidi is about 5'2" and 110 lb. and taught the class riding an R1150GS! This woman can ride! Turns out she impressed Richard Schallenbarger (Enduro course manager and instructor, Team Manager of the BMW Paris-Dakar effort when they were running F650's) by winning the TransDanubia Women's division a few years ago. The TransDanubia is an overland enduro event that usually runs for three days traveling through several countries which Richard also organizes.
This proved to be a good learning experience and it also told us that we were not interested in the F650GS for our travels. We had contracted to use the new F650GS for the class, and we did. We were not impressed. We were provided with an alternative, however.
One day, Richard saw Verna having mechanical problems with her bike (which we both did) and he put her on the R1150GS he was riding. She was terrified and Jim had visions of 600 lb. of motorbike on top of her the first time she tried to stop. Oh yes, now that she's on this giant bike lets go to the local military base and practice emergency braking techniques. After watching all 5'4" of Verna handling the big GS I wanted to ride one. Richard told me to take his. Wow.
Of all the things we did in planning our escape from the working world and moving into full time motorcycle travel around the world, taking the Enduro course turned out to be the best. Why? We learned that the new F650GS was not the bike for either of us. We also learned that the R1150GS was the bike for us. We were able to demo two new motorcycles in conditions that we knew we would face in our travels at a very reasonable cost. See the page for the Enduro Course in the German section of the Our Travels, Europe, Germany menu for more information about that event. See The Bikes section in the main menu for all the particulars about the bikes.
The next thing we did was place a phone a call to Kari Prager at California BMW in Mt. View California. He changed our order and agreed to take the K1200's on consignment. We planed to take delivery in June 2000. We decided to get new bikes in the U.S. because we would never be able to get non U.S. models licensed in the U.S. should we buy in Europe and want to bring them back to the U.S. Plus, the only place we could count on for residency was the U.S. where we could use Verna's mothers as our permanent address. This would also give us a way to keep the registration current on the bikes as well as our driving licenses while we traveled.
At the conclusion of the riding course we jumped on the K12's with our battered and bruised bodies and made for Amsterdam and a charter flight to Toronto, Canada.
The arrangements for the bikes were once again made through Gail Goodman at Motorcycle Express. Gail also put us in touch with the company which would carry the bikes as cargo, Air Transat. Air Transat is a Canadian charter company that also carries freight. We were able to secure tickets for ourselves on the same plane that the bikes and trailer flew on. We also were able to ship the bikes and trailer fully loaded with all of our belongings, which meant that we had very little luggage to carry on. This did create a bit of a stir when we checked in for the flight because we had no luggage to check on an international flight. When we explained that we had cargo on the plane and all of our luggage was with the bikes. A quick check of the flight manifest found our bikes and things were OK after that. Airport security is getting very interesting these days, eh? (Note: This was in May of 2000 — this was initially posted January 1, 2002 and we're sure that this would create much more of a stir today).
We flew with the K12's from Amsterdam to Toronto and had reservations to fly with the new R1150GS's from Vancouver to Amsterdam in September. This may sound a bit much but we were able to get round trip airfare cheaper than we could get one-way tickets. And, the return airfare to the U.S. was part of our contract when we went to work in Ireland!
Our return to North America gave us the opportunity to ride from Toronto to California. Verna had never been to any of the areas between Toronto and Yellowstone National Park.
Flying out of Amsterdam was very easy. We were concerned as our flight was scheduled to depart Amsterdam on a holiday. We had visions of customs problems, freight forwarders being closed (they were) and the usual, Murphy's Law fears. The lad from the freight forwarding company came in on the holiday, met us at his office and escorted us to the cargo area where we assisted with getting the bikes loaded on a pallet. He also took care of all the paperwork for customs. He then gave us a ride from the cargo area back to the main passenger terminal. None of this is part of the service. He was just a very nice guy.
We did decide that we could spend every hour of every day with each other and have been on the road ever since. You can read about the remainder of our trial run in the Amsterdam to Shady Cove page located in the Travelogue 2000 section of the Travelogues menu.