May 6, 2000 Amsterdam, Netherlands
Today we leave Europe. After almost 2 years, we are headed back to North America. While we have missed friends and family, we've never felt "homesick" in any way. It has all been a big adventure and now we start another chapter.
To start, the flight was delayed 3 hours, so we spent a lot of time in the airport. At least they gave us a voucher for dinner because of the delay. Then, by the time we boarded and they got the plane loaded, we were almost 4 hours late.
When we got to the gate we could see the pallet with our bikes on it – all shrink-wrapped in plastic.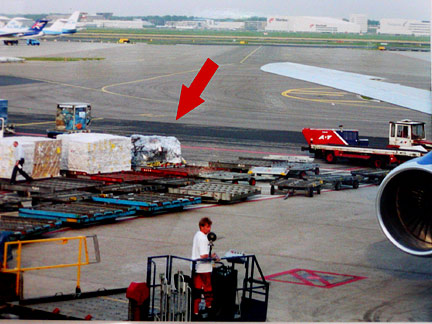 It was kind of fun watching them bring the pallet up and load them in the plane. The red arrow in the picture is pointing to our bikes on their pallet. At least we knew they got on board.
By the time we got in to Toronto, it was nearly 10:30 PM so we were quite exhausted. Checking with the airline, we finally found someone who could tell us that we could get the bikes in another 3 hours. So off to find a hotel – except that everything near the airport was booked. So we found a Best Western someway out of town, got a rental car (barely) and drove another ½ hour to get to the hotel. It was 1 am before we got to sleep, then Jim gets up at 5 am to call on the bikes.
May 7, 2000 Toronto, Canada
We checked out of the hotel at 6:30 am – the girl who checked us in and out cannot believe we are leaving so soon – I'm sure she thought we were crazy!
Found the cargo folks and got the paperwork to go to Customs. Found Customs and they said they would send the guy over as soon as he comes back from another inspection, about 20 minutes. So we went to the local greasy spoon for some breakfast, then back to get the paperwork. The inspector was from the agricultural department and we passed okay – good thing we had washed them off. $46.01 Canadian for the inspection. $25 for the after-hours/weekend (it was Sunday) inspection, which they did not charge! Thanks!
The cargo guy didn't unwrap anything until we got there to watch. He couldn't believe the way they were packed. Under the shrink-wrap were bits of Styrofoam around and between the bikes. As we took off the tie down straps, we thought they had marred the side panels with the straps. Later we found they were marks that just washed off. Whew!
So we returned the car and hit the road. Drove, with several stops, to Niagara Falls. It wasn't that far, but neither of us was operating at 100% efficiency. Found a nice hotel in the middle of tourist central, then took a walk to the falls.
Wow! What a sight! Verna took pictures, but we don't think there is any way a picture can capture the magnificence of the falls. The sheer volume of water is amazing, plus the depth of the drop – the size is overwhelming. The noise is deafening. But luckily the tourists weren't too bad, as we seem to have hit it before the main season. We got the room for $60 Canadian, but it is posted as $299 Canadian in high season!
It was warm – about 80ºF. Shorts and T-shirts; gosh, it has been a long time! We took a walk around town – it is a true tourist town. There are hotels, restaurants, and souvenir shops. Then there is the casino – only one in town, but it appears to do a booming business. The place was packed.
Now, since the adults are all in the casino, where are all the kids? Near the casino was an area that had all the kid's theme events – Ripley's Believe it or Not, Guinness Records, various ghoulish attractions, to name but a few. Plus, of course, all the major burger joints were represented. Not someplace we would choose to spend a lot of time.
Returned to the room for cheese and crackers, Sun Chips, and a bottle of La Grande Dame champagne for dinner. It was all we could do to keep our eyes open until 9 PM.
May 8, 2000 Canada to Michigan
Another warm day and we loved it. We headed out of Niagara Falls and west to Michigan on a smaller highway. We are in the land of flat, straight roads! You can go north, east, south or west – occasionally you get a chance to go northwest or southwest, but usually not when you need it. Very windy today, and with driving straight in one direction all the time, one's neck begins to feel it…
The highway (69) was pretty boring as not only was it flat and straight, but there was not much scenery. The highway is out in the middle of nowhere so you don't see towns or businesses either. Occasionally there is an exit with a sign announcing gas, food, or lodging. Once you exit, you find another sign that says the shop or restaurant is 5 miles down the road! Not very user-friendly, eh?
Lots of small towns, singe family houses, no fences, and lots of BIG lawns. Today was mowing day – seemed like everyone was out on their riding mower. Not much in the way of foundation plantings or flower beds, so these houses appear to be planted in the middle of flat green fields.
Not sure what these folks do for a living as there is not much sign of business other than the occasional diner, family hotel (no hotel chains out here!) and gas stations. Though in one town we did pass right by the Ford assembly plant. Judging from the size of the parking lot (acres), people must come from miles around.
Boy does this money we use look funny! We don't recognize some of it – new $20s and new quarters. Though we notice that we now carry a lot less change because of the $1 bills and we like it!
May 9, 2000 Michigan
Huge thunderstorm rolled through last night – Verna woke up at 3 am with one of the bike alarms set off by the wind. Never did really get back to a deep sleep after that. Around 4 am the thunder was rolling in, waking Jim. Verna has never seen him move so fast – he literally flew out of the bed before he was awake. And it was pouring rain. Thank goodness we weren't riding in it!
This morning we started off dry as we headed west. As soon as we turned north on highway 75, the drips started falling so we stopped to put on rain gear. It started coming down very hard for about an hour before beginning to clear. The storm was moving east and we passed through the worst of it. We passed a sign on the road announcing we were crossing the 45th parallel – we are half way between the equator and the North Pole.
By the afternoon we were in the northern part of Michigan and the scenery had definitely improved. The woods were thick; the road followed over rolling hills and the sky was getting bluer by the mile. A lot more conifers appear as we move north. We spot a beautiful wildflower blooming in the shade along the roads – white with 3 petals – Verna suspects it is a trillium. The weather is a bit cool so we had to use our electrics.
We saw some really big trucks today – these guys have 10 sets of duals! That's a fourty wheel trailer. There were others with shorter trailers run in tandem with 5 sets each. These haul some serious weight!
We've also entered the land of billboards – you forget how many there are here in America, especially after not seeing many in Europe. We kind of like not having them, but when the drive is boring, they do add a welcome diversion.
Fritos! We found our first bag of Fritos today at our afternoon break. Couldn't resist. Yum!
We've seen our fuel bill decrease enormously. We fill up about every 100 miles for about $8. That would have been more like $20 on the continent and closer to $30 in Great Britain.
The food costs have decreased slightly – I think mostly because of the drink cost. We can have water for free or, like today, unlimited soda for $1.39. In Europe, we would have paid $2 for 20 cl (about 8 ounces). That's quite a difference.
Late this afternoon we went over the Macinac Bridge, crossing to the Upper Peninsula. The bridge is one of the longest suspension bridges in the world (5 miles). The middle portion has a metal grid deck in the center 2 lanes so we crossed in the line of cars and trucks at 20 miles per hour, with a very stiff crosswind.
May 10, 2000 Michigan Upper Peninsula
It was 45ºF as we rose, with an expected high of 60ºF later in the day. Time to bundle up and turn on the electrics. The sky is overcast, but doesn't look like we'll get wet (we can only hope!).
We headed west on highway 2 across the peninsula. It was a really nice road and not much traffic. We rode along the shore for a while past the pine trees and sand dunes. Sand dunes? We didn't expect sand dunes. Anyway, it was a nice ride. After a while it warmed up a bit and was quite pleasant.
We stopped at a small town for lunch. All the senior citizens were heading into the Ranch so we decided to follow as we expected it to be a good value. Before we could get our gear off, we had several folks stop by to chat about the bikes and where we've been and are heading.
The Ranch was a buffet format with prepared steaks, sandwiches, etc. But it was a fairly good value – we each got a Philly cheese steak sandwich, fires, soda, and dessert for just under $10. This is a type of place we have never seen in Europe – they tend to either have the individually prepared meals, or fast food like McDonalds. This is more of a compromise in the middle. As we were preparing to get back on the bikes, another 4 or 5 people stopped to chat. We must have been the interesting oddity for the day.
The afternoon was another lovely ride with little traffic, great scenery, and partially cloudy skies. Just as we crossed the border to Wisconsin to our motel for the night, the first raindrops started to fall. We went down to the hot tub and sauna to relax, then walked to the local market for a ½ chicken, potato salad and cucumber salad for dinner in our room. As we began to chow down, the rain started falling in earnest.
That evening in our room we get a phone call – a local resident (BMW rider) passed by and saw the bikes. He invited us out for a drink! Jim declined as we were tired and it had been a long day, but it was an awfully nice gesture!
May 11, 2000 Wisconsin
We woke to gray overcast skies. We bundled up for rain as we hit the road for Duluth. A couple of hours later we arrived in a most depressing city. We're sure there are nice things about Duluth, but we sure didn't see them. As we arrive, the fog is lifting off the lake. But nothing of the city seems to be remotely interesting.
We found Aerostich (our reason for going to Duluth) and tried on our riding gear. They had to make some alterations so we couldn't take them with us. Jim looks pretty good in his, but Verna's is a terrible fit, as they don't alter to women's shapes. The small is too small in the chest and the medium is too big all over. New, they are extremely stiff so it emphasizes the poor fit. Hopefully with time they soften and become more molded. This is definitely not fashion material!
We headed south out of town and ran into a blinding fog before we got on the freeway. Seemed like a good time to stop for lunch. Well, the timing was good, but not the food! But in talking with some locals, we found out that the fog is normal in this particular area as it rises off the lake. Sure enough, a few miles down the road we could see again. Thank goodness – we weren't looking for another fog ride (did 3 hours in 50 foot visibility in the mountains near Nurberg, Germany, on the way to Amsterdam at the start of this trip).
Duluth didn't have a BMW dealer as we hoped, so we headed toward "The Twin Cities": Minneapolis/St. Paul. We found the dealer and got things in motion, but he couldn't do the work until Monday (this was Thursday), so we have a 4-day layover. Got settled in our hotel then went to Tony Roma's for ribs – Yum!
Also, on the way into Minneapolis, we had stopped about 30 miles out of town to phone the local dealer and get directions. While we were stopped, a trucker came over to the bikes and introduced himself as a BMW rider. He gave us his name and phone number and told us to call if we had any trouble or needed local help. How nice! This is one of the reasons we enjoy the bikes so much. When was the last time a trucker came up to you at a rest stop and offered his help because he was a fellow Ford driver?
May 12, 2000 Minneapolis
Mall day! There was a threat of rain today so looked like a good day for indoor activities. Mall of America here we come! The hotel as a courtesy shuttle to the mall – as does every other hotel in the area. Perhaps this is the destination for many who come here?
The Mall of America is America's largest mall – and it is huge! It's anchored by four large department stores: Macy's, Sears, Nordstrom's and Bloomingdales, and it has a 7-acre theme park in the center. There are 3 levels of shops connecting all this together. A shoppers dream comes true.
The sad part of course is that 98% of the stores you will find in any mall in America. About the only one that was truly unique to this area was "Minnesota." Most of the others were chain stores that you will find across the nation. Shopping in America is becoming very homogenous.
We managed to shop from around 10:30 to 3:15 buying only food, a pair of sandals for Jim, an electrical adapter set, a book light and a stick-on thermometer. Not bad. By the time we got out, the sun was shining in partly cloudy skies and it was reasonably warm.
May 13, 2000 Minneapolis
A cold front blew in last night. Howling winds that set off the bike alarm at 3 am. By morning it is in the 50's and the wind chill makes it feel like 30. Okay, no bike ride today.
We rented a car and took a drive to Stillwater, on the St. Croix River. On the way, we went to down town Minneapolis to check out the shops and skyways. You can walk for miles down town and never go outside – perfect for a day like today. In this climate we can see where this would be quite useful, as well as the only way the downtown shops can compete with the malls.
On the way to Stillwater we saw a hotel we hadn't noticed before – Extended Stay America. We stopped and got their national directory. They are mostly in the larger metropolitan areas as they cater to the business traveler, but would be very practical for us. They are essentially studios with a kitchenette, queen-size bed, desk, recliner and bath. All have central laundry facilities and are very reasonable, especially for the week. We may see these in our future!
The St. Croix River area is really pretty. It has very lush vegetation and lots of trees along a lazy river. There were lots of farms in the area, and it looked like mainly cornfields. The plants were all about 2" high – so, will they be knee-high by the 4th of July?
There were lots of parking and picnic places along the river. Today they were pretty much deserted, but we can imagine that are buzzing in the summer! There were lots of big powerboats and sailboats at the marinas so the river must see its share of action.
We returned on the Wisconsin side of the river. The road is a bit away from the river on this side, but gently rolls through scenic farmland. As we near highway 95 south of Hudson, we see lots of signs for picnicking, camping, and tubing – rent your tube here and float down the river!
We stopped at the supermarket for dinner – yes, we are in America: not just groceries, but deli, roasted meats, salads of all sorts, Chinese, Mexican, yogurt bar, you name it, they've got it. One really doesn't need to cook anymore!
May 14, 2000 Minneapolis
The weather is improving, but still cool. The sun is shining and the sky is blue as we rise. Laundry day. Love these hotels with laundry facilities!
We headed back to the Mall and REI for more shopping. Took the time to investigate water filters and purifiers. For us it looks like the filter and chemicals is the safest bet, so we got the MSR unit, which has a cleanable filter.
May 15, 2000 Minneapolis
Went to drop off the bikes at the shop and found Verna had a flat tire! Jim was able to plug the hole (with great difficulty!) and get to a nearby gas station for air. It was enough to get us to the shop, but then had to spend an extra day while they ordered a new tire. Argh!
May 16, 2000 Minneapolis to Brookings, SD
We got out of Minneapolis today – finally! After 5 days and a lot of money, we've got the bikes back in running order. Finally hit the road about 5 PM to try to put some miles on.
We ended up driving about 200 miles. We headed southwest on highway 169 and it was quite a pleasant ride. Coming out of Minneapolis we passed rolling green countryside, quaint towns, wood-sided houses with wraparound front porches. As soon as we turned west on highway 99, the landscape became flatter, and the roads straighter.
At least the weather was decent. Tomorrow it doesn't look as good, so we thought it would be best to get the miles in today – especially with the new tires. It is almost guaranteed to rain tomorrow.
May 17, 2000 Brookings to Pierre, South Dakota
It was windy, but dry as we rise. The Weather Channel (great invention!) indicates we'll probably get rain today, but may be on the northern edge of the severe weather. We don our rain gear "as a precaution" and head out.
Almost immediately it starts to rain, not heavily, but constant. About 15 minutes down the road we see a lightening strike in the distance – and we are headed straight for it. Luckily it is quite a ways away, but the storm is headed directly towards us.
We continue to drive into it as there is nowhere around to take shelter. The lightening is gutting closer, but still some distance away. The clouds are getting darker. Verna is ready to pull into one of these occasional farms and beg for shelter. The road turns north and head directly into the wind. The sky is now black and the lightening continues, now to our left. Thankfully there are signs of a town ahead.
We finally spy a gas station/quick mart in the small town of Arlington and pull in. As we head for shelter close to the building, the manager suggests we park in the gas bays where it is covered. Sounds good to us. Just after we get the bikes moved and get inside, the sky opens and the rain really starts coming down hard.
Then the hail starts falling. More people come in seeking shelter. Half-inch hail falls in sheets before us, pounding on the roof. The ground is solid white. The hail finally turns to rain, but it continues in a deluge. The gutters fill up and the highway is almost flooded in front of the shop.
People continue to arrive, some leave during brief respites. It looks to be calming (except for the wind) when a new crew of folks comes in. One reports 3" of hail on the road to the west – guess we won't be leaving just yet.
Another comes in reporting a tree fell on his trailer. One now has dents in his car and a broken windshield. The latest is the guy reporting 65 mph winds in Brookings where the roof to the Super 8 Hotel blew off (we stayed just across the street last night!). Snowplows are out trying to clear the roads. Are we having fun yet?
Two & half hours later, it looks as though the worst has passed and we head out. For the next 30 miles down the road are the remnants of the hailstorm – the hail is lining the road, covering roofs and piled on grassy verges. Muddy rivers were flowing through freshly plowed fields and low points are now lakes. Where large stands of trees were, there was a carpet of macerated leaves on the road, like someone put bushels of leaves in a giant blender and poured them onto the road. One place about 25 miles out the hail was packed 3-to-4" high on the road except for the tire tracks.
The wind was strong and steady the rest of the day, but no more rain or lightening. We made it to Pierre, the state capitol and got a room with a Jacuzzi in it. Wow, did that feel good!
We walked through the business area just off the highway and it looked pretty dead. There were lots of closed businesses around. Verna's guess is that there is a small mall outside of town that has attracted all the business. Jim thinks it is just a small town. Perhaps we'll see tomorrow.
May 18, 2000 Pierre, SD to Gillette, Wyoming
Blue skies and sunshine! Wow! What a great way to start off the day, especially after yesterday. As we leave town, there is a big billboard advertising the mall, just outside of town (Verna wins the bet!). We rode up to Mount Rushmore on a good mountain road with little traffic. The sculpture is quite amazing – definitely larger than life.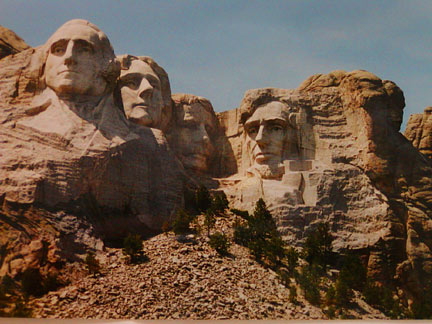 But if you go, don't park in the concession parking area if you can help it - $8 per vehicle, bikes included. Just down the hill there is a remote parking area that is free and still had some space. It also allowed us to get a picture of Jim on his bike in front of the mountain. Unfortunately all of our pictures on this trip were before we purchased a digital camera. We scanned the pictures and now don't know what happened to them. Someday we'll get this updated.
We left there and drove north through the park and had a great ride through the mountains. Down the road we began seeing signs for Wall Drugs, like the first one we saw in Amsterdam on the canal. So we made a slight detour to go to Wall, SD. Right on the main street is a huge drug store, Wall Drug. Actually, it is a conglomeration of several smaller buildings, as they have slowly expanded over the years. So what is so special about Wall Drug? As a drug store, nothing, but as a classic American example of entrepreneurism, it is an interesting tale. When the interstate highways were being built in the US, they came near, but bypassed many of these small towns like Wall. Folks now drove the inter states, not driving through the small towns and business was declining. The owner of Wall Drug thought there must be some way to capture the business back, so put up a large sign on the highway indicating free ice water at Wall Drug. As South Dakota is hot and dry in the summer, people took him up on his offer. While they were there, they may have also bought something else. Then the owner started selling ice cream, then sandwiches, coffee, etc. It is now a booming business, with a full drug store, souvenir shop and restaurant. By the way, the ice water is still free.
We made the Wyoming border by late afternoon so headed to Devil's Tower. That's quite a site. You can see it from about 10 miles away as you approach, and then y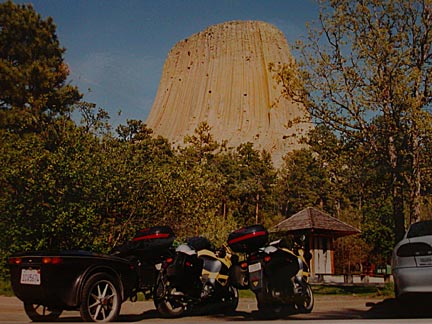 ou get some views about every couple of miles as you near. Once you enter the monument, you can park just at the base of it. We could watch the climbers on the mountainside toiling away. You drive through a prairie field as you enter and exit – watch for prairie dogs as they pop up everywhere! Another picture of the bikes and the tower and we're on the road again.
Had a lovely ride back out to the interstate – nice high-speed turns and beautiful scenery. Watch for deer! We made it to Gillette before dark and decided to call it a day after 387 miles. Margaritas and Mexican food for dinner; Yummm!
May 19, 2000 Gillette to Cody, Wyoming
More blue skies! Another great day. We could get used to this. Not too many cars on the road, and we were way, way out there.
Verna kept thinking how easy it was for us to roll on the miles and how many days/weeks it took the early settlers to cover the same ground that we now do in a day. This territory is really rugged, but our roads have smoothed out and straightened the path so we don't realize the true nature of the land. Where you can see the old roads you can tell the difference – they are much closer to the natural contour of the land. But she supposes that straight level roads are easier to maintain; especially in the cold winters with all that snow.
After some pretty flat plains, we headed into the rugged foothills, covered with native short grasses and sagebrush. About 10:30 am we left Buffalo to cross the Big Horn Mountains. We hit the snow level at 10:40 and by 10:50 the rain drops were falling. It is definitely cool – but we're okay as long as it remains raining. At 11:00 we pass the summit – 9700 feet! By 11.10 we are out of the snow. Whew! The decent is rather steep, carved out of the near vertical walls. But it is absolutely beautiful as the eroded canyon walls open before you in their many colors. By 11:30 we are out of the mountains and the temperature is rising.
We decide to take a back road that links up with highway 14. It is paved and in good condition with no traffic. But we are out on the open range. Cattle are everywhere – mostly cows with young calves. At first they are along side the roads, so we slow to avoid startling them. Then there are one or two in the road. As we slowly approach, they tend to move off. Then the whole group is in the road and they are not moving! A few honks get them moving, but we take it slow to avoid scaring them. Further down the road there is the lone cowboy on his horse, driving a small group across the road. We stop to watch. He finally gets all of them across, then waves us by and watches us pass. With a huge grin on his face he gives us a wave.
We stopped at one town for lunch but didn't find much, so headed toward the next larger town – still not much. So on to the next, the largest in the area with about 1800 population. The best we could do was the A&W drive in, complete with working ordering stations and trays that hang on the car windows! Don't know how long it has been since we have seen one of those! And boy did that root beer float taste good!
On to Cody as the dark clouds are building. We got a bit of rain, but nothing major. We found that in Cody, you are nothing unless you have a pickup truck, a gun rack in the cab and a dog in the back.
We went to check out the Buffalo Bill History Center, but as they wanted $10 a head, we decided against it. Instead we went to Mailboxes Etc. and paid our bills on the Internet. We drove through the main street of Cody, but it appeared to be the same souvenir shops, fudge and ice cream shops we see in the other tourist areas. The town appears to be mostly hotels serving the tourists coming to Yellowstone.
May 20, 2000 Cody, WY to Arco, Idaho
Great weather again this morning as we head west toward Yellowstone. The route up from Cody is beautiful and recommended. Just before we get to the park entrance, there are 5 bull bison in the other lane, just ambling along. They stay in their lane, so we pass by slowly in ours. They're huge! We were probably within 10-15 feet of them – about as close as anyone would want to get we should think. What a site!
When exiting the cafeteria after a warm-up tea break, we bump into the couple who were in the room next to us in the motel in Gillette. Small world. We head north and soon came upon several bison grazing. So we pull over and snap some pics with the bikes and buffalo. As we head west, we see some elk and more bison. Further along, as we are heading toward the park exit to the west, we slow as the cars ahead are stopped. We soon find out why. There are 80 or so cows with young calves! It looks like they have just crossed the road as the last 10 or 20 are still alongside the road. The others are off in the meadow, grazing away. The cows are much smaller than the bulls. Further down the road, 2 bulls were crossing the road and one was the biggest we had seen – absolutely massive!
Once we descended out of the mountains, we head across the flat sagebrush desert. There sere a couple of times where there was nothing around – no cars, no farms, no phone or electrical wires – and we really felt out there!
We drove as far as Arco, Idaho as it was either stop here or drive another couple of hours. There's not much in Arco, but there is even less in the surrounding communities. The highlight of Arco is the hill to the east where each graduating class since 1921 has painted their year on the rock faces. We noticed that the current seniors had so far painted "200" – at least they were being Y2K compliant as each of the previous years had used only a 2 digit year. By the time we finished dinner, they had finished their final "0."
We got a room for $35 – an older motel with some rooms in the back that were like small one bedroom apartments. That's where they put the scooter trash! But actually it was nice having the extra room. We talked with the owners a bit while we did our laundry. They are retired and bought the place 5 years ago as a project. They've resided and refurbished the units in front, added the laundry, etc. They've got it up for sale on the Internet but are prepared to stay another 5 years if they don't find a buyer.
As we found on our walk through town, Arco made history on July 17, 1955 when it became the first city in the nation to be lit by atomic power. We had noticed a power plant in the desert southeast of the town, so suspect that is their energy source.
May 21, 2000 Arco, Idaho to Burns, Oregon
Had a big breakfast at the local greasy spoon – Jim ordered the biscuits and gravy and it was enough for the whole family. My pancake filled the entire plate. Good food though. There was a table of local ladies breakfasting next to us. One indicated to her friends that she needed to get gas before they hit the road because she didn't want to find herself empty "in some jerkwater town like Carey." Carey must be really bad! Well, as we drove through Carey later that day, it was rather small with a population of about 187. But it did have a gas station!
Soon we came across the Craters of the Moon national monument so took a moment to drive through and enjoy the view. It is an area that was covered with volcanic rock, but not from a mountain. Here, there were great fissure vents where the lava flowed from the ground. The monument covers 83 square miles and there is a 7-mile loop road that takes you to the most interesting places. There are many places to stop and hike, if you wish. There is also a campground at the monument entrance.
Traveled through high desert today, though much of it was very scenic. Most of it was very hilly with twists and turns so it was quite nice. The highway engineers haven't gotten around to straightening the roads in these places (and hopefully they never will). One of the most enjoyable stretches of road started just outside of Vale and followed the Malhuer River as it winds it way through the sagebrush-covered hills; quite a nice road and very scenic.
We stopped at Juntura for a break around 5:30 PM and had a bite to eat at the Oasis (which is about all there is in Juntura). It's 50 miles form nowhere but it was a welcome respite for the hot and thirsty traveler. Today was our warmest day - 88ºF in one town. We are not used to this heat after Ireland. But we are downing water frequently, often, and in large quantities. That helps immensely, but 5 minutes back on the road and we are thirsty again.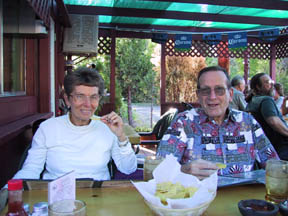 In the next couple of days we blasted our way to Shady Cove, stopping only for food and rest. Like an old stable horse, Jim could smell a comfy bed and home cooking! Welcome back to the U.S.A.
The next several months were spent selling our house in California and preparing the bikes for our big odyssey. All of the preparation was done while staying at Verna's parents house in Shady Cove, Oregon. At right is a photo of her parents during one of our many dinners at the local Mexican restaurant.