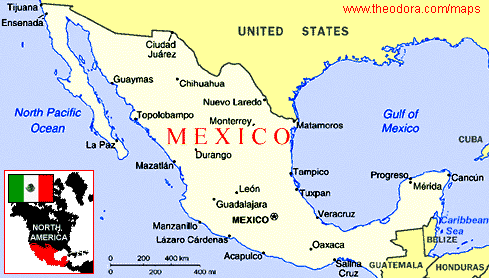 While we have traveled in Mexico many times, we did not have pictures that we could include in articles here on the web site until April, 2003. In April, 2003 we sailed on the good ship Infinity of Celebrity Cruise Lines. This excursion left the bikes in Spain while we took 28 days to sail from San Diego, California to Fort Lauderdale, Florida and back.
Mexico is a land of extreme diversity. Lots of glitzy tourist resorts coexisting with ancient cities, snowcapped volcanoes, pine forests, deserts and tropical rain forests. The country's history is part Native American and part Spanish.
Covering almost 2,000,000 square kilometers Mexico is bordered on the west by the Pacific Ocean and the Gulf of California. One the east by the Gulf of Mexico. The northern most portion of the country is bordered by the United States and the southern most border is with just a tip of the country couching the Carribean Sea.
There are two north-south mountain ranges which frame a broad central plateaux - Altiplano Central. The vast majority of Mexico's 93.7 million people live in this temperate central plateaux.
Before the Spanish conquest two thirds of the country was forested and filled with animals such as puma, spider monkeys, jaguars, macaws, toucans, anteateres and deer. Today, less than one fifth of the forests still stand and most of the animals that lived in them are gone.