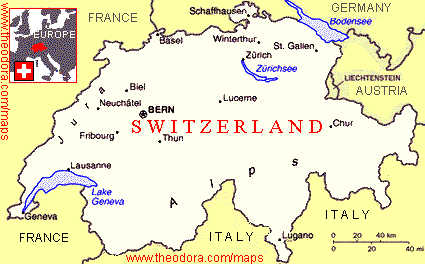 Switerzerland has some of the most beautiful scenery in Europe - every time we go through the country we expect Julie Andrews to pop out from behind every tree bursting into a rousing chorus from the Sound of Music.
We both traveled to Switzerland in 1997 with Verna's parents. We returned in early May, 2002 on the BMW motorcycles during our adventure motorcycle travels when traveling north to Germany from Italy.
We think that the country is exteremely photogenic but unfortunately extremely expensive.
While in Switzerland, we stay on the secondary roads all the way for 2 reasons: first, we enjoy the local roads for the scenery, riding experience, and because we pass through the smaller towns on the way. Secondly, in Switzerland (as in Austria), if you want to ride on the motorways, you must buy a pass to do so (available at all border crossings). We actually think this is a good idea in that those who want to use the motorways help fund the maintenance but without having the hassle of stopping to pay tolls. But for us, as long as we not in a hurry, we enjoy the secondary roads.