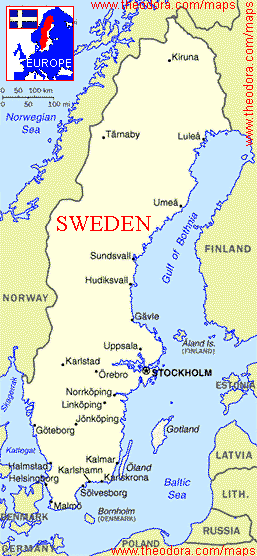 We arrived in Sweden with sunshine and puffy white clouds as we crossed the bridge from Copenhagen, Denmark, to Malmo, Sweden in June, 2001. This trip was intended to be a scouting mission for the summer of 2002 when we hope to spend three or four months in the Scandinavian North.
We found Sweden to be much larger than we had expected. Even looking at the map we did not realize that the country was more than 3,000 Kilometers in length. We also found the countryside to be quite different between the north and south.
The southern part of the country is relatively flat and mostly devoted to farming. Mostly agriculture but we did encounter herds of dairy cows. As we neared Gothenburg which is about 300 km north of Malmo, the landscape gave way to rolling hills.
Needless to say, having seen what amounts to the tip of the ice burg we know that we are not equipped to comment on the geography of Sweden but from what we have seen it varies greatly between the north and south. This trip accomplished our goal which was to determine how much time we would need to explore Scandinavia - A lot!
To quote that famous action hero, "I'll (We'll) be back!".
And, on the first of August, 2002 we did come back. We arrived in Stockholm by overnight ferry from Helsinki after exploring Norway enroute to the Nord Cap and then riding south through Finland to Helsinki. This time we were able to spend more time in Gothenburg and visit Stockholm and Tröllhatten as well as riding as far north as Idre and Mora and enjoyed the country.