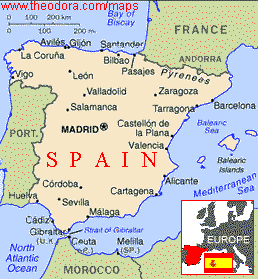 Spain - the word conjures visions of high plains and bullfights! Well, we were half right. The bullfights (corridas) are very real but the county is much more mountainous than we, for some unknown reason, had envisioned. We came to Spain for the benign climate. We found that the climate was only part of Spain. The people, the terrain, the food and the red wine were all reasons to stay and spend more time.
We arrived the first time in early October, 2000 to blue skies, sunshine and warmth. We enrolled in Spanish Language courses at the University of Alicante. While we each had a small amount of Spanish in school we soon learned that our previous instruction did not even scratch the surface of the language. We left in March of 2001 and returned in October of 2001 and stayed stayed near Mijas (about 34 kilometers west of Malaga) and went back to school for more language lessons. We left in March of 2002. We are using Spain as our winter home while waiting for the wonderful European winters to end. We shifted to Mijas from Alicante because it is about 5 degrees centigrade warmer along the famed Costa del Sol throughout the winter.
From what we have seen every time we take to the highway we are putting ourselves at great risk. The Spanish tend to live by the creed of manana at all times except one - when they get behind the wheel of an automobile. We have seen an alarming number of automobiles that have had their front ends smashed in each time we go by the BMW dealer. When on the highway we find that the drivers of Mercedes, BMW's, Audi's, high end VW's, etc., seem to think that they do in fact own the whole road. They take great pleasure on getting right up close to any vehicle in front of them in an attempt to intimidate the person in front. Their objective is to force the car in front of them out of the way. We find it interesting that none of the damaged cars at the BMW dealer have rear end damage. All have front end damage and many have been rolled over. See the Driving in Spain page for more details.

As evidenced by this picture, the bullfights in Spain are generating quite a bit of controversy. There are many who believe that the bullfights are an important part of their Spanish heritage and that anyone or anything that opposes the bullfight is not worthy of being Spanish. The picture speaks for itself.