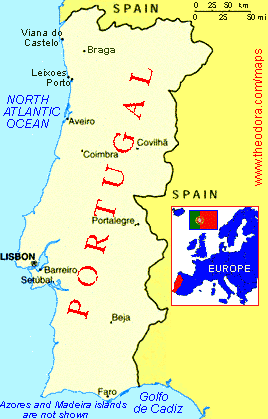 Portugal lies on the west coast of the Iberian Peninsula and is surrounded by the Atlantic Ocean on the west & south, and by Spain on the north and east. Because of its geographic position and the economic troubles it has had over the years, it has largely been ignored by most travelers. The algarve region, covering the southern coast is a bit of an exception as this area has been catering to the sun-loving, golf-playing Europeans for years.
Because of its isolation, much of Portugal is reportedly still old-fashioned. This is part of its appeal. While travelers may come across areas of poverty and sub-standard roads, they will also be blessed with friendly people and UNESCO World Heritage Sites. EU funding has brought much infrastructure improvement in the last 15 years, and you will find much of it still under way.
Port is Portugal's most famous product and export. Head up north to the Porto area to learn about this delightful drink and of course taste the many varieties. You will be sure to find one (or more) that suits your fancy.
While Portuguese is the national language, English is widely spoken in the bigger cities. Some of the language is similar to Spanish, which can be a help when reading signs and menus. But the spoken language sounds little like Spanish, and given Portugal's long-standing resentment of the Spanish, it is best to not try speaking Spanish.