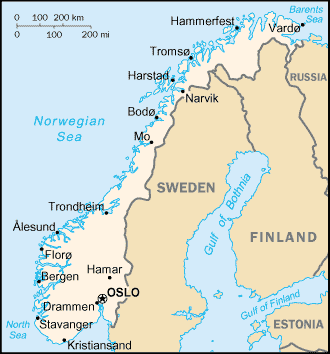 We arrived in Norway in early July, 2002 on the ferry from Hirtshals, Denmark to Kristiansand. First impressions - beautiful country populated with wonderful people who will go out of their way to help you.

The first thing to note about Norway in relation to the remainder of Europe - Norway is not part of the European Union. The farmers and fisherman have lead the fight to keep the country out of the EU and to date have been successful. Norway has an abundance of natural resources and a very highly educated work force and as a result have not suffered economic harm as a result of not belonging to the EU.

Communicating is easy for us because almost everybody speaks some English. A good thing too because we do not think that we could possibly understand either of the two official languages of the country ( Riksmal or Bokmal [book language] and Nynorsk). Almost 80% of the school children have Bokmal as their primary language and the other 20% Nynorsk.

We are looking forward to getting north far enough to experience the midnight sun. To do this at the Nord Cap (our last chance) we must be there before July 31st.

As we headed up the south-eastern coast, we found the coastline dotted with small harbors such as the one above, in Tvedestrand where we spent our first night. This looks like wonderful sailing territory, at least during the short summer months.

Now, on the down side - Norway is EXPENSIVE! Food prices in restaurants are (in our opinion) extremely high. It is difficult to purchase two hamburgers, one order of fries and two drinks for less than $30.00 US. In the supermarket, 4 apples, 200 grams of cheese, a box of crackers and four drinks were $23.00 US.