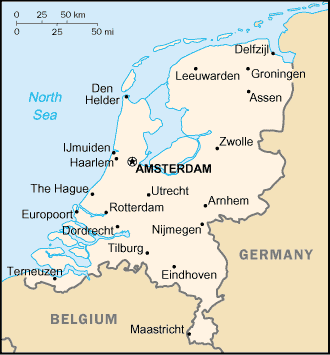 Netherlands, or Holland as the Americans call it (incorrectly we might add), lies in the lowlands in the north of mainland Europe. It is an easy ferry ride to England and a few hours ride to Belgium and Germany. While the Netherlands is a small country it has a big reputation for liberalism.
Amsterdam is the Netherland's most famous city, noted for its canals and relaxed atmosphere. Amsterdam is also convenient for air flights to the US as well as all over Europe and the Middle East. The main airport, Shipol, is conveniently connected to the train system so one can easily visit without the need of a car. Importantly for us, it is one of the European airports that will ship the bikes on the same flight you are on.
Amsterdam continues to be at the top of most visitors travel itineraries but there is plenty to do and see in other parts of the country. Especially for the bicyclist as the Netherlands is a bicyclist's heaven.