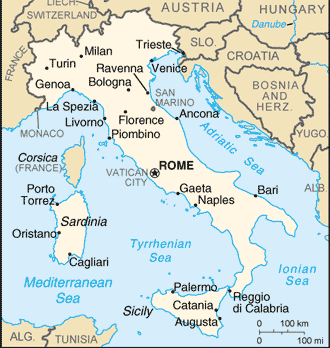 We entered Italy from Monaco in April of 2001 on our motorbikes. This was not the first trip to Italy for either of us. Rather than date ourselves lets just say that we were there separately many, many years ago. We came back in April of 2002 when we arrived in Sardinia by ferry from Corsica. In May 2003 we returned again, this time entering Genova on a ferry from Barcelona. We both think that Italy is one of the most beautiful and diverse countries we have ever seen. There is no doubt that the country has transformed over the years and the most recent past is no exception.
Italy has style, food, wine, women, song, geography, history, etc., etc. Unfortunately Italy also suffers from the too syndrome - too many cars, cities too big, too many people in too many places at the same time, as do many places in the world today.
The mountains in the north, Sicily in the south and the rest of the county in between. The physical shape of the country makes it one of the most recognizable in the world. Italy is a huge peninsula of which more than three quarters is mountainous and contains four active volcanos, Stromboli and Vulcano (located in the Aeolian Islands), Vesuvius (located near Naples) and Etna (located in Sicily).
We got an introduction to the Italian language, to help us get by (and yes, the Spanish helps as many words are similar). We found the proper pronounciation of the letter "C" is important to speak or understand Italian. The "ce" is pronounced "che" (as in cello), while the "ci" is pronounced "chi" (as in da Vinci), and the "ch" is pronounced "ck" (as in zucchini). Now we understand why these words in English are pronounced the way they are!
Italy is really expensive. The cost of our first lunch was the first clue and the cost of our first hotel was a shock - $75.00 US a night for a one star hotel!! We had been staying in four star hotels for about $40.00 U.S. in Spain. Similar in France. Time to get out the tent and sleeping bags. What did we expect? I don't know but most of the other English speaking folks we have met (Canadians, Australians and Americans) were all as shocked as we are at the prices.
We have since returned to Italy several times, mostly in the north to visit the Dolomites. Part of the European Alps, the Dolomites are striking and a wonderful place to ride the bike.
In 2005 we made a tour of southern Italy, including Sicily. We enjoyed our month-long visit quite a bit, but were still surprised at the cost of food and lodging. We were also a bit disappointed at the amount of trash and litter that adorns the roadways - it certainly wasn't very appealing to us.