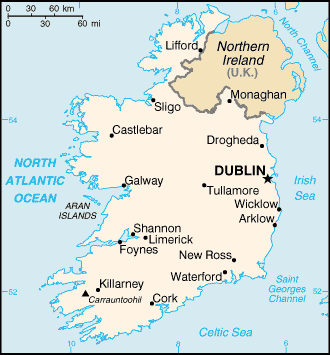 We arrived in Ireland in June and July of 1998. Well, Verna arrived in June and Jim arrived in July. The objective to set up housekeeping in Dublin for one year. We stayed for 21 months. When we concluded our stay in Ireland in March of 2000, we started our adventure motorcycle travels on our BMW motorcycles.
The weather is actually quite enjoyable, though it does rain a bit more than we were used to on our arrival. We have discovered since being here that Ireland's weather is greatly influenced by the gulf stream. The good news:
This is why the island has relatively mild winters, especially for being so far north.
The bad news is, every time there is a hurricane in the Caribbean, gale force winds arrive a few days later.
Dublin certainly seemed like the place to be when we were there. If you were in your twenties or early thirties Dublin was the number one party city in Europe.
The flask in the picture below right is a very treasured gift we received from the lads that Jim worked with the two years we were in Ireland. The inscription (in Irish) translates (roughly) to ,"May the road rise with you". This is an Irish blessing for someone going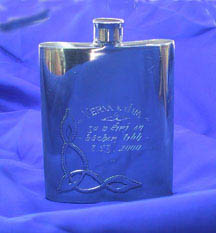 on a journey wishing them well. We concluded our working days at the end of our contract in Ireland and the presentation of this momento is something that we will cherish forever!
While we were there we saw:
The Tour de France (pretty exciting, though the crowds were so thick it was easier to watch it on the television)
The Tall Ships. (wow, are they spectacular!)
And of course President Clinton.
The Good Friday Agreement being implemented and the Northern Ireland Executive being established.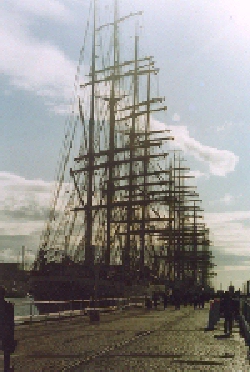 We didn't actually go see the President, but his visit certainly had an impact on the country . On the motorcade route to Ballybunion there was a hair salon named Monica's that had to change it's name so the press couldn't get a picture of the President near it!
It was interesting, of course, to read about "Zippergate" from the Irish perspective. Generally the President is thought of highly and the consensus here seemed to be that Counselor Starr should have found something meaningful to do and Bill should get on with his job. The locals seem to think Americans should have something better to spend all that money on! However, we did get pages and pages of articles regarding the latest findings (all in very explicit detail). When reports were speaking of impeachment, the following was printed:
"Irish bookies backed Bill Clinton to stay in office until his term ends in 2001. Leading firm Paddy Power has rated the President's chances of surviving the Monica Lewinsky storm as an odds on certainty 4/9. The odds against him completing his four year stint are 6/4."
Obviously the Irish take American events seriously.