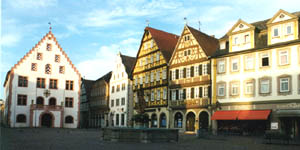 In May of 1999 we spent two weeks exploring this area of Germany on our K1200RS's with Bushtec Trailer - a gorgeous route from Würzburg (just outside of Frankfurt) to Füssen (southwest of Munich). This was an area which avoided the massive damage of WWII. As a result, there are many complete towns, still within the original protective walls. These towns are so well preserved, the visitor feels as if he has been transported to the middle ages. The route covers about 350 km (210 miles) and highlights 27 charming towns worth visiting. However, it would be a bit much to visit all of them, so pick up a guide at a tourist office and select a handful to tour and enjoy.
There is a major highway (A7) that basically follows the route but bypasses the towns themselves. However, the local roads that connect the towns are in beautiful condition and make for great motorcycle rides. Of course, you will encounter more traffic this way, but if you come out of season as we did, you will be welcomed by relatively empty roads. What follows is our adventure along this infamous route.
We made our start in Bad Mergentheim (town center, above), a bit south of Würzburg. On our way to Bad Mergentheim, we had taken the A3 from Frankfurt and had spent a lot of time in stop and go traffic. The highway was clogged with trucks and we seemed to come to a stop (for miles) at each major intersection. We were reluctant to split lanes as we weren't sure what the laws were. However, after several minutes standing still, the German rider behind us pulled around and split lanes, so we followed. Most cars along the way pulled over to let us by! We guess splitting lanes is okay here. Nevertheless, we were anxious to get back on the secondary roads.
Bad Mergentheim is a quiet spa town along the Tauber river. We stayed there 4 days while we explored the local towns. As we found, taking 2 bikes and a trailer into these small towns gets to be bothersome. We both had been wishing we didn't have the trailer at times; both in heavy traffic as well as some really nice country roads. We found a great hotel with a garage where we could safely leave the trailer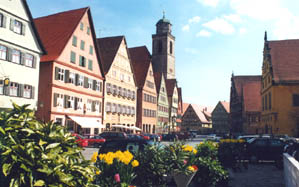 Our first ride out we took only one bike and headed to Weikersheim (town center at right) where we toured the castle (below right), the former residence and family seat of the Prince of Hohenlohe.

The castle overlooks the Baroque palace gardens below), a beautifully manicured garden full of blooming bulbs at this time of year. A large fountain is featured in the center, plus several smaller fountains.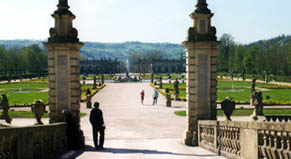 At the far end is the Orangerie - 2 conservatories with citrus plants, as well as many palms and other tropical plants. It was not open when we were there, but looked to be a wonderful place to sit and relax.
The castle was started in the 1500's and reflects the Renaissance, Baroque and Rococo epochs in the interior designs. Most of the furnishings are form the early 1700's. Quite exquisite inlaid-wood tables and chests throughout. It was quite cool and dark, giving a very realistic sense to what it must have been like living there at the time.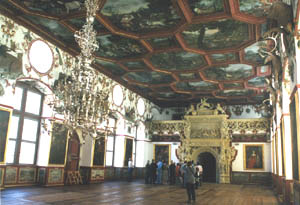 We were especially impressed with the Knight's Hall built in the 1500's. It is an expansive room with sculptures of game animals on the walls, hunting scenes painted over the entire ceiling, and the center, a huge silver-covered brass chandelier (right). A close up of some of the hunting scenes painted on the ceiling is shown below.
After lunch, we headed south again and soon came upon Rothenburg, which appeared to be the motorcycle capital of the Romantic Road. This was Good Friday and a wonderfully warm dry day, so everyone who owned a cycle was out! We've never seen so many motor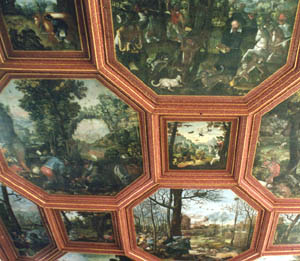 bikes - especially in the town, but also along the roads. And ride they did. Europeans have a love affair with the concept of driving a race vehicle. It makes no difference if it is a Formula 1 car, the GP Mororcycles or Superbikes. When the bikes are out en mass like this you think you have stumbled onto a race circuit. They were parked at cafe's, restaurants, etc., anywhere there was space. It is also customary to have your leathers done up to look like full blown race leathers as well. We saw some really colorful leathers!
Next stop was Dinklesbuhl, complete with outer walls and moat. As you walk or drive through the gate time turns back many centuries. The historical town is largely intact and provides a great sense of the times. Definitely worth a visit. Below is a view of the town from atop the church spire.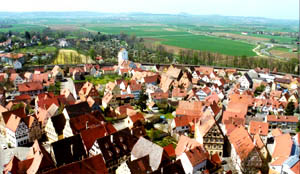 The ride back to Bad Mergentheim was on 290, a great road - well maintained, sweeping curves as well as panoramic views of the surrounding hills. All is green and the apple trees are in bloom, dotting the landscape with clouds of white. Once back in town, we finished off the day with a relaxing beer and roast chicken for dinner in the Bier Garten. It took a while to get our meal as they were a bit busy, but who was in a rush? Another beer while we wait?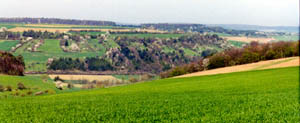 The next day we headed back down the 290, but with both bikes as Verna didn't want to miss out on all the fun. We stopped at Nordlingen where we ate lunch. By now we had learned to simply ride directly into the center of town to find someplace to park.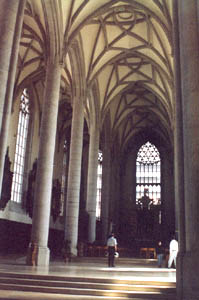 You can always find someplace off the street - on the corner, next to the bicycles, or just some out of the way sidewalk. For lunch we tried spatzel; it was okay, but a bit on the bland side. After lunch we headed to St. George's church, a beautiful late Gothic church (right) which has been renovated inside, and they were working on the outside. The carvings, both in stone and wood inside are very impressive, especially considering the tools available at the time. We climbed the bell tower "Daniel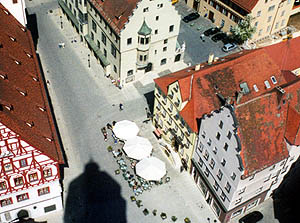 " - 90 meters high to get a fantastic view of the city. At left is a shot looking straight down into the town center where our bikes are parked lust behind the umbrellas (about center of the picture).
The outside wall is still intact all around the city and you can walk the entire distance. The city is almost a perfect circle, with the church at the center. As you look to the horizon, you can see Nordlingen is at the center of a flat circle several miles in diameter - apparently this is a crater from an asteroid which hit millions of years ago.
We chose the B19 to ride back - yet another wonderful road (we haven't found a bad road in Germany yet!). By mid afternoon it was probably about 80 degrees F. Wow! Though we both knew that the tar used to seal repairs in the road can be quite slick in the rain, we also found out that it is quite slick in the heat - slick enough to lose traction in a turn. Verna discovered this on a fast left hand sweeper when the front tire started sliding, then caught as the back tire hit the tar. No harm done, but a bit shaken. Soon after in the next town, Jim was making a a slow left turn when his back tire slid out, then caught again. Surprised, he couldn't figure out what he slid on until Verna explained at the next stop. We were both a bit more careful after that.
Back to the Bier Garten for another lazy dinner. Verna found a light wine drink she liked (wine shorle), something like a spritzer and very refreshing. We seemed to be getting the hang of this!
On Easter Sunday we checked out of Bad Mergentheim and headed south. Yet another glorious day. It is so wonderful being in this warm, pleasant weather after a cold wet winter in Ireland. Rolling green hills and great roads, flattening out as we headed east toward Ansbach. Only made a couple of wrong turns this day. Ended up in Wemding, near the BMW Enduro Park where we were scheduled to have a class the next weekend (See the BMW Enduro Park page in this section for more information). We stayed here for the week while touring the southern half of the Romantic Road and attending the course at the park.
Eas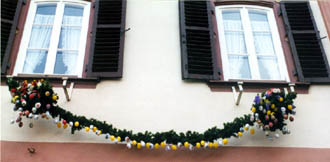 ter is definitely a big holiday here - all the shops were elaborately decorated and each town we went through had some type of central display. Many had a central tree or 2, with eggs hanging form them. The other popular decoration seemed to be garland studded with colorful eggs and ribbons (left), usually as a central sculpture in the town center and repeated on various shops. Individual houses also hung colored eggs in the windows or on trees. The most unusual was in the town where we stopped for lunch - a central building had lines drawn from it to lampposts and fences, then sheets of decorated fabric were hung from the lines - we though it might be the work of the local school children. Quite colorful and definitely an attention getter!
Monday was threatening rain (guess it can't be perfect every day!), nonetheless, we headed out and donned our rain suits almost immediately, as our high hopes of just cloudiness soon vanished. We headed to Ausburg to try and find a dealer for tires, but didn't have much luck as everything was closed for Easter Monday. Although the rain never came down hard, the slight drizzled was a real pain on the cobbled streets and tram rails in town.
As we entered Wemding, we noticed a sign indicating no traffic was to enter the town, though we saw a few cars enter. So we followed. There were lots of people standing around as if waiting for a parade, but nothing in sight, so we drove right through the center of the crowd. Got a few strange looks, but since we knew of no other route to our hotel, we went for it. No sooner had we entered the garage and we heard the band starting to play! We quickly changed clothes and went out to see t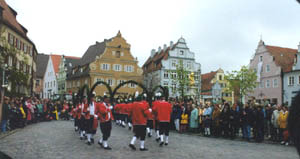 he event.
There was a band, about 25-30 strong playing traditional music and a group of men with green boughs marching in formation, forming various shapes with the boughs (left).
After their performance, 5 men with a huge keg ceremoniously hammered the iron bands on the keg. Then they all paraded out of the town center, followed by a costumed man sitting on top of a keg (below), all pulled by a tractor (probably the cleanest it has been all year). The crowd dispersed, many of them heading to the cafes - which we did as well for lunch. Had Sparglekremsuppe since it was spargle (a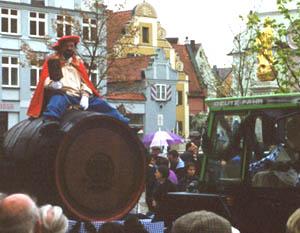 sparagus) season. It was quite good and rich. Spargle seemed to be the featured item on almost all restaurant menus in the area and several restaurants had special, separate Spargel Menus. Almost all of the asparagus served is white and large spears.
Since we are trying to sample all the different foods, we tried the "Holiday Soup" or Festtagsuppe. It was very good, but different. Basically a meat broth with 3 meat dumplings or soft meat balls. One was liver, we think the second was veal, and we haven't a clue what the third one was! The shrimp toast was also very good, though drenched in butter. Essentially it was 2 pieces of toast, covered with a garlicky-shrimp-butter mixture. Yummy.
The next day we headed south again to Schwangau to see mad King Ludwig's castle. We hit a lot of traffic heading to Augsburg, but soon after we made up for it on the autobahn - cruising at an 90+ mph for miles and miles. Yes, we can see why these K12's got the nickname "Autobahn Baby." Really smooth. Remember though that riding the autobahn at 90-100 mph requires a bit of concentration - because there are still cars and trucks only doing 60-80 mph as well as the occasional guy sailing past at 120 mph or so in his/her Audi.
The autobahn stopped around Landsberg and we were back to 2 lane roads meandering over the low sweeping hills. Seemed to be a bit of traffic with the occasional truck to slow our progress, but a short bit of straight clear road and we were gone. The thing we noticed about the drivers here is they drive - they pay attention and don't seem to surprise us with unexpected actions. If we come up behind a couple of cars behind a truck, then get to a passing area, the cars almost always wait for us to pull out first and let us pass before they pass - how civilized! Or if the first car does pull out, they immediately pull back in after passing the car in front of them to let us pass before passing any other cars. How refreshing
So here we were, tooling down the road over low rolling hills and as we crested one viola! There were the Alps, covered in snow. How beautiful they are and so majestic. We headed west a bit toward Fussen and traveled through the foothills, bright green and lush. By now there were only a few clouds and the views were magnificent. Truly like being in a picture postcard.
We found Schwanstein Castle and headed up. Its about a 20-30 minute hike up a fairly steep incline to the ticket booth. There you stand in a long line to buy your tickets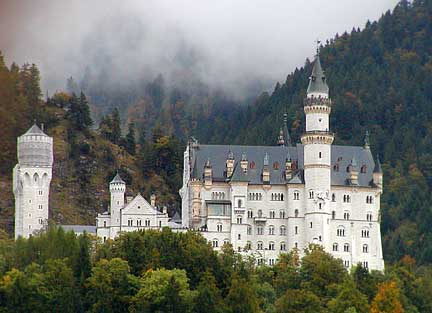 (while enjoying a cola and a huge pretzel). Now with your ticket in your hand, you climb to the castle itself and wait in another line, this time according to the language you prefer. The German tours were going about every 20 minutes while the English and Italian were about every 30 minutes. By then it was 1:30, we were standing in full sun and it was getting hot! Luckily some of the wait was inside in the cool castle. Remember not to visit during Easter week and the lines should be much shorter. We returned again in September 2002 with our friend Nancy and now you buy the tickets at the bottom where you park, then head up according to the time on your ticket. Plus, you can ride up on a bus, in a horse-drawn carriage or walk. We chose the horse-drawn carriage and had an odiferous ride to the top as one of the horses had a case of gas all the way up. The picture above was taken from below.
The castle itself is pretty amazing, although never finished. It was begun in the late 1800's and worked on for about 15 years before they declared King Ludwig mad and took him away. Work stopped immediately and it became a museum. But the parts that are done, or at least nearly completed, are gorgeous! Every room had German Oak ceilings (except for the concert hall which has pine for the acoustics), and each is carved in a different motif. As King Ludwig II was a great admirer of Richard Wagner, many of the rooms feature wall murals from Wagner's operas.
The wall murals are in their original condition and look absolutely new. The chandelier in the Throne Room is a massive crown-shaped affair with huge semiprecious stones inset; the whole thing weighs about a ton. The tour ends in the kitchen - Verna was impressed. There was a huge stove/oven island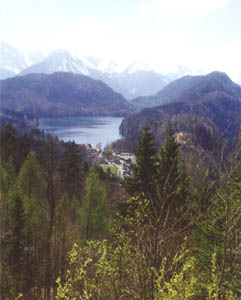 that vented to a far wall where there was a cupboard that served as a warming place for the prepared foods. In the next room near the chef's office was the pastry marble, about 8 feet long and in a nice cool area. The kitchen area was probably about 20 x 40 feet - not including the areas with the pastry marble and the scullery. Verna was ready to move in. The view to the right is seen from inside the castle.
Having had enough of the tourists, we took the less-well-traveled roads back. It was a glorious ride back with only a tiny bit of traffic. But for the most part we had the roads to ourselves and thoroughly enjoyed them. It was about a 200 mile day and we were tired by the time we got back. So time for brew, a kebap and a walk around town - that was a full-enough day for us.
The next day we dropped one bike off in Augsburg for a new rear tire at the BMW dealer. They were very helpful though they didn't want to replace the existing Metzler tires with the same ones since these were not specified for these bikes in Germany. We were finally able to get them to agree since the bikes were American models with California registration. The next day we traded bikes and had the other rear tire changed. Quick and painless and at a reasonable price.
On one bike we headed out to Friedberg. Riding 2-up has its benefits when it comes to parking and navigating, but after the first 15 minutes, it gets boring for Verna (short legs are relegated to the back). We have had endless discussions about 1 bike versus 2. But the boredom factor always seems to outweigh the cost factor. So we c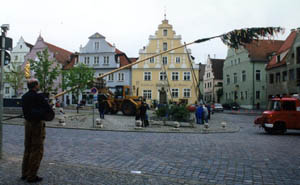 ontinue on 2 bikes.
Back in Wemding, we headed up to the Pizzeria for dinner. While sitting there a tractor towing a huge pole passed by, followed by the fire truck. A May pole perhaps?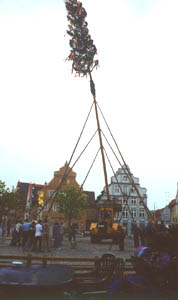 After dinner, we walked back into the town center where they have the log set into a trench in the platz, a bulldozer holding it up at about a 20 degree angle, with the local men supporting the log with several long poles. We decided this would be the night's entertainment, so sat at the outside restaurant with a bier and a shorle to enjoy. We watched for about an hour while they got it into an upright position (almost there, at right). While we were watching, the local children were out to play, and this young boy (below)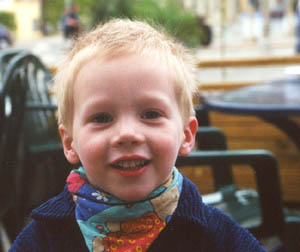 was quite pleased when we would play ball with him, quickly becoming our friend for the evening.
We noted too that shortly after the tractor passed the pizzeria, the church bells rang voraciously, evidently notifying the town that the event was beginning, so the platz was full of spectators. Later, around 8:30, as we were sitting in our room, them rang again, evidently notifying everyone that the task had been accomplished.
We returned once again to the Romantic Road in September, 2002 when we met our friend Nancy in Frankfurt and drove to Munich. While we revisited some of our favorite spots, we did add a couple new ones. Our first stop was Würzberg which is the northernmost city on the Romantic R
oad. On top of the hill overlooking the town is the Marienberg Castle (right) which served as the residence of the Prince-Bishps of Würzburg until early in the 18th century. It is a lovely place to simply wander among the walls and old buildings, although there are 2 museums as well.
Just outside the old town is the Residenz, a baroque masterpiece by Neumann at the behest of Prince Bishop von Schönborn who felt the castle on the hill just wasn't quite up to his princely status. Although much of the building was damaged in WWII, the huge ceiling fresco by Tiepolo (reportedly the world's largest fresco at 18 by 30 meters) thankfully remained intact, many of the furnishings were saved, and the rest was faithfully restored. The mirrored room was by far the most impressive, completely covered with a multitude of back-painted mirrors, each a work of art in itself. This one you have to see for yourself as pictures cannot do it justice.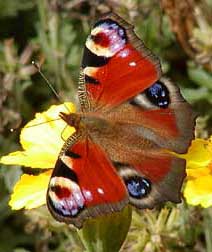 Outside, the gardens are equally impressive and a pleasant respite. You could literally walk for hours out here and never cross the same path twice. At above, left is a side view of the Residenz, showing just a small portion of the gardens. Above, right is a colorful guy we came across while taking time to smell the roses.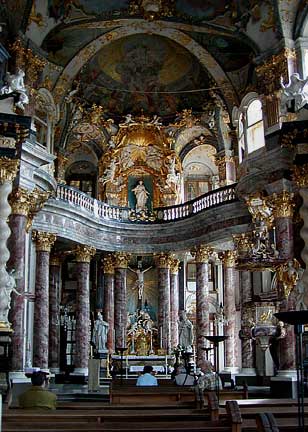 Outside the main building of the Residenz is the chapel built for the Residenz. The photo at right gives you an idea of the opulence found throughout the place.

On a nearby hill, you can view the Pilgrimage Church (above) with its onion-shaped domes so often found in this area of Germany.