In June of 1998 we attended the BMW enduro course at the BMW Enduro Park in Hechlingen.
We learned at great deal about riding off road. We were thinking about purchasing the new (at the time) BMW F650GS for use in our travels. We used the new 650 for three days of training at the park. We learned that the 650 is not the bike for us and the type of traveling that we want to do. We found the bike to be quite quirky. The one Jim had continually overheated. The ABS (anti lock brakes) on Verna's machine never functioned properly.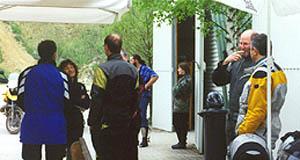 The group attending the class was quite diverse.. We were the only non German speakers in the class. Fortunately Heidi, our instructor, could speak some English and everyone else in the class could speak English. By the time the class was over everyone was speaking with us and it made us feel very welcome. At left, our instructor, Heidi, is the small woman to the left. She had definitley mastered the 1150GS, even though she couldn't touch the ground with both feet!
The three day version of this class involves leaving the Enduro Park and riding in the country side and forests of the surrounding area. This was very nice and gave us a chance to practice our new found skills in more real world environment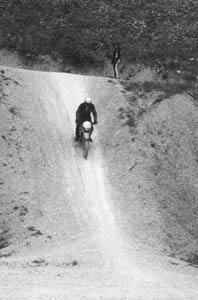 . The most intimidating part of the course was going down extremely steep hill sides strewn with stones.
In the photo to the right Jim is descending the most intimidating of the hills in the park. Heidi (our instructor) stands at the top of the hill offering encouragement and advise as we each went over the top. Jim thought that going up the hill and cutting the power and immediately making a sharp turn would the the most difficult part but compared to the downhill the uphill was a piece of cake.
At the conclusion of the course Jim had a sprained left thumb and severely bruised right knee. Verna brought new definition to the term "walking wounded". There was not a part of her body without a bruise plus she had a severely bruised hip. Would we do it again? Absolutely.