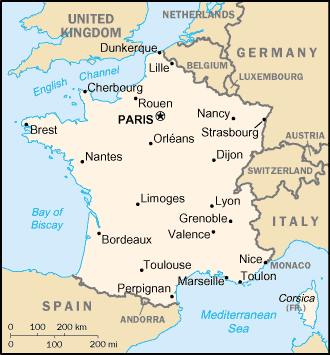 We visited France with Verna's parents in 1997. While we had both been there previously this was the first trip for either of them. We rode from Cherbourg to Perpignan in October of 2000 on our motorbikes as we made our way from Ireland to Spain. Then, in April of 2001 we rode from Alicante, Spain through Andorra and into France for a two week trip through the southern portion of the country, through Monaco and into Italy.
France is the largest country in Western Europe. France has a very diverse culture due to the number of immigrants that have entered the country - more than any other country in Europe. Geographically France sits today in the middle of Europe, just as the French have thought that France was in the middle of things forever.
In addition to the history of the country one of the most striking thing about France is its geography. Bordered land (Germany, Luxembourg, Belgium) water (the Atlantic, Mediterranean) or the Alps. We think that south east France has some of the greatest motorcycle roads in the world - all with little to no traffic!