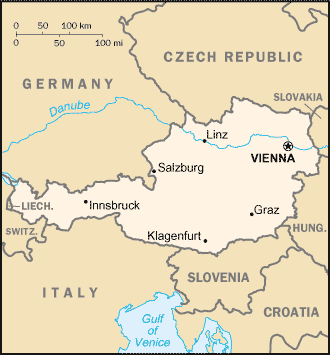 In 2003, during our adventure motorcycle travels on our BMW motorcycles we returned to Austria having been traveling through Italy (May) and then again after we were in Hungary (June). In May, 2003 we rode through southern Austria after entering the country from Italy and passing through the out lying areas of Innsbruck and rode east before we turned south on our way to Slovenia.
Verna first visited Austria in 1980 and Jim first visited in 1969. We both visited in 1997 when traveling in Europe with Verna's parents and visited Salzburg.
We were also in Austria in 2001 when we were traveling in southern Germany.
Austria has a population of a little more than eight million people. It is also one of the most popular tourist destinations in Europe. Historically, Austria was at the crossroads where east met west and the heady days of the Hapsburgs is a good indicator of the role Austria played then. Today tourism is one of the largest drivers of the economy. The country occupies approximately 83,855 square kilometers (32,376 square miles). Much of the country is mountainous (about two thirds) and the Danube Valley is the farming region that produces the vast majority of the food products that are consumed in the country.
Austria is famous for its ski resorts with a ski season that runs from December through April. Year round skiing is possible at the Stubai Glacier located near Innsbruck.
Austria is also famous for its musical heritage. In the 18th and 19th centuries when, for example, the waltz was originated in Vienna. Vienna, Salzburg and Graz continue to host annual music festivals of world renown.
It comes as no surprise, given the mountainous nature of the country, that hiking and mountaineering are very popular with the residents and visitors. Many areas have alpine huts that can be used to seek shelter from adverse weather or to overnight in when on the trail.
We like Austria and know that we will be back - there are many roads and passes in the mountains that we need to explore on the bikes before we leave Europe.